Anthony is a photographer and writer for travel magazines and Lonely Planet, including the guides to Kenya and Botswana & Namibia.
The area near Mt Kilimanjaro, on the Tanzanian side of the border, is one of East Africa's most alluring safari destinations. There's so much to do here, from exploring the better-known northern safari parks of Tarangire, Lake Manyara and Ngorongoro, to lesser-known attractions such as West Kilimanjaro, Mkomazi and Lake Natron/Ol Doinyo Lengai where you can enjoy a quieter, more intimate safari experience.
Wherever you go, there's often plenty of great wildlife to see. But there's grandeur here, too, and your most memorable sightings may well involve standing in awe before some of Africa's most magnificent mountains. Many tours in Tanzania's north depart from Arusha, so consider booking somewhere to stay in town the night before your tour begins (if such accommodation is not already included in your tour).
1. Ngorongoro Crater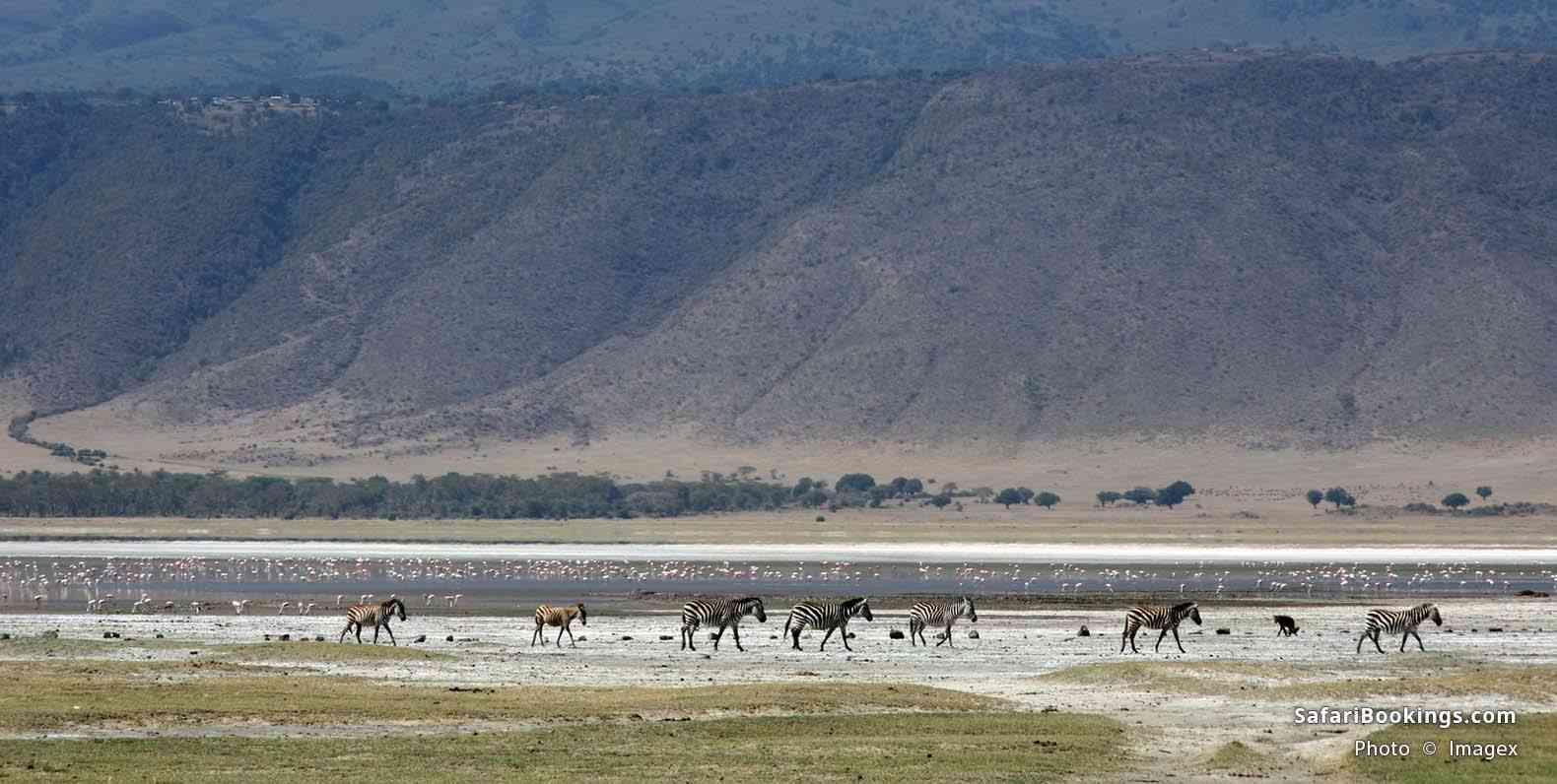 Zebras walking at Ngorongoro Crater
It's a long drive from Moshi to Ngorongoro Crater, but we've never heard anyone complain. Ngorongoro is truly one of Africa's greatest natural wonders, a lost world of wildlife – lions, elephants, black rhino, spotted hyenas, flamingos and so much more – and a setting that surpasses anything you'll see elsewhere. The excitement of descending into the crater in the soft, post-dawn light has few rivals on Tanzania's safari circuit, and the combination of views, wildlife and sheer, unadulterated beauty make this an experience to savor.
Driving time from Moshi: 5 to 6 hours
Accommodation: The road from the provincial town of Karatu up to the Ngorongoro Crater rim is lined with fine lodges and other accommodation, often tucked away in the forests. The views from the tented camps, lodges and campsites up on the rim itself can be magnificent.
Activities: Game drives; picnics; bird watching
Ngorongoro Crater Tours
2. Tarangire National Park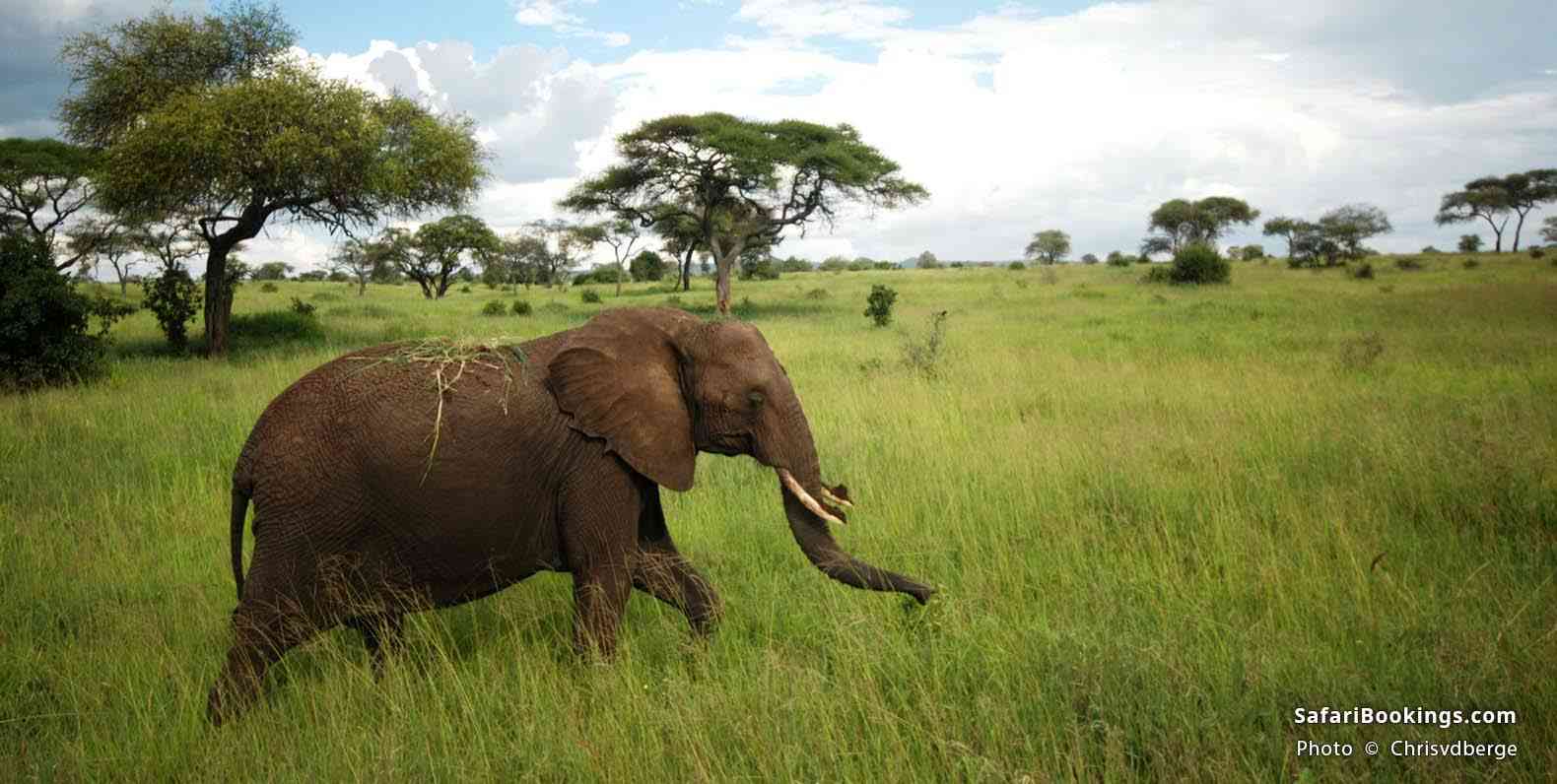 Elephant walking at Tarangire National Park
Tarangire National Park is a true land of giants: the park is filled with both elephants and baobab trees, and they will be soulful presences throughout your stay in this wonderful place. The park is also known for its big cats, big herds of zebra and more, and a terrific selection of accommodation both inside and immediately outside the park. It doesn't get the same crowds as other parks in the Northern safari circuit, which means you may sometimes have a wildlife sighting all to yourself. I have spent time in Tarangire with hunting cheetah families and roaming prides of lions with not another vehicle to be seen.
Driving time from Moshi: 4 to 5 hours
Accommodation: Tarangire has terrific accommodation, with a handful of lodges and tented camps sprinkled throughout the park and around the park's perimeter.
Activities: Game drives; bird watching
Tarangire Tours
3. Lake Manyara National Park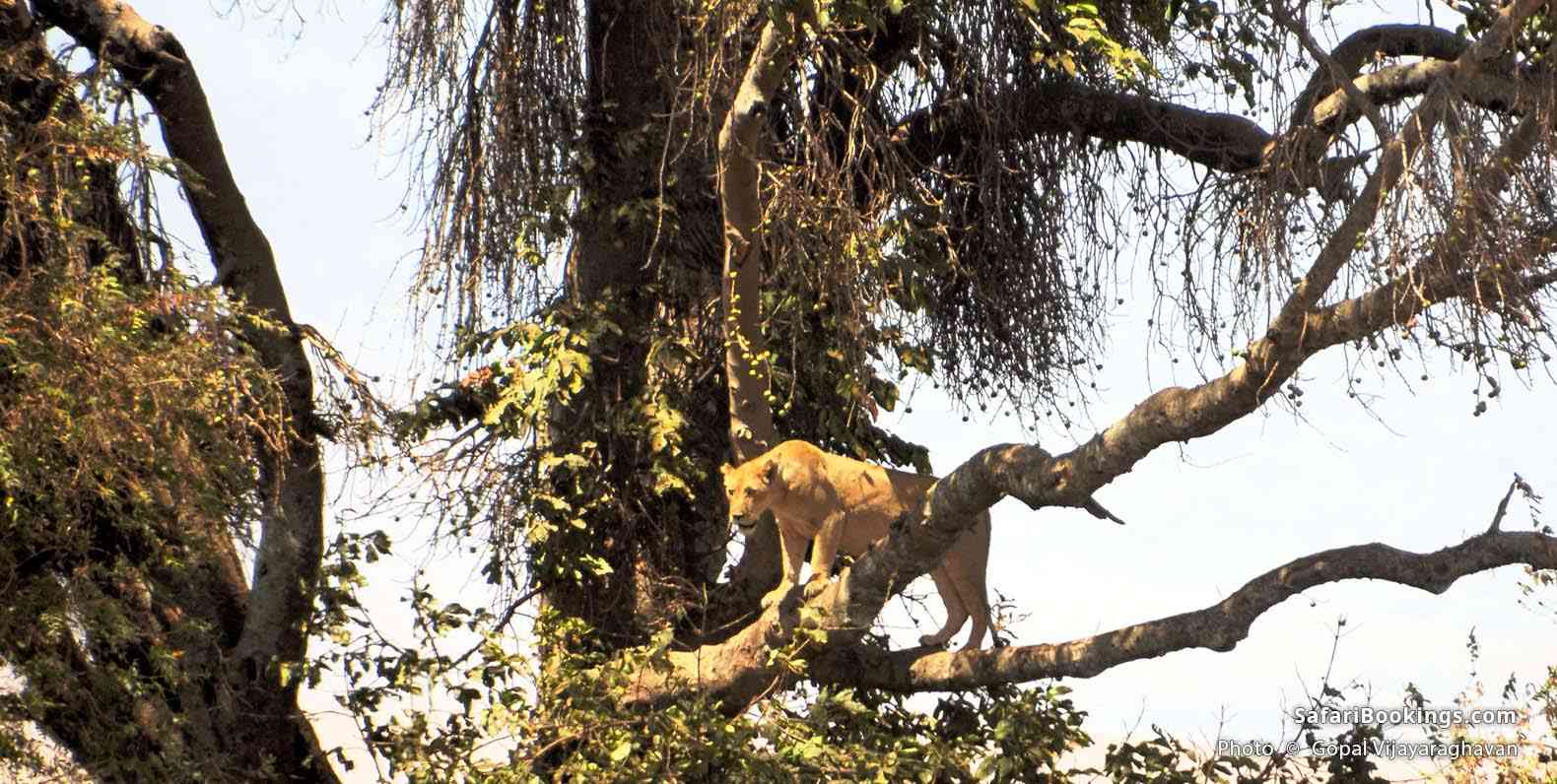 flickr.com/photos/t3rmin4t0r/3948737678
An easy drive from Moshi, Lake Manyara is one of Tanzania's best parks. It combines dramatic scenery – the Great Rift escarpment rises abruptly along the park's western boundary – with a fantastic wildlife offering. Some of the earliest elephant adventures of famed elephant expert Iain Douglas-Hamilton took place here, as memorably described in Peter Matthiessen's The Tree Where Man Was Born. The park is also well known for its tree-climbing lions: you never quite know when you'll look up to find a lion gazing back at you. The birdlife here is incredible, especially near the park entrance and along the shores of Lake Manyara.
Driving time from Moshi: 4 hours
Accommodation: There's lots of accommodation across a range of budgets in the town of Mto wa Mbu near the park entrance, or along the rim of the Great Rift escarpment from where there are incredible views. Inside the park, there's a small number of good choices too.
Activities: Game drives; treetop canopy walks; bird watching
Lake Manyara Tours
4. Arusha National Park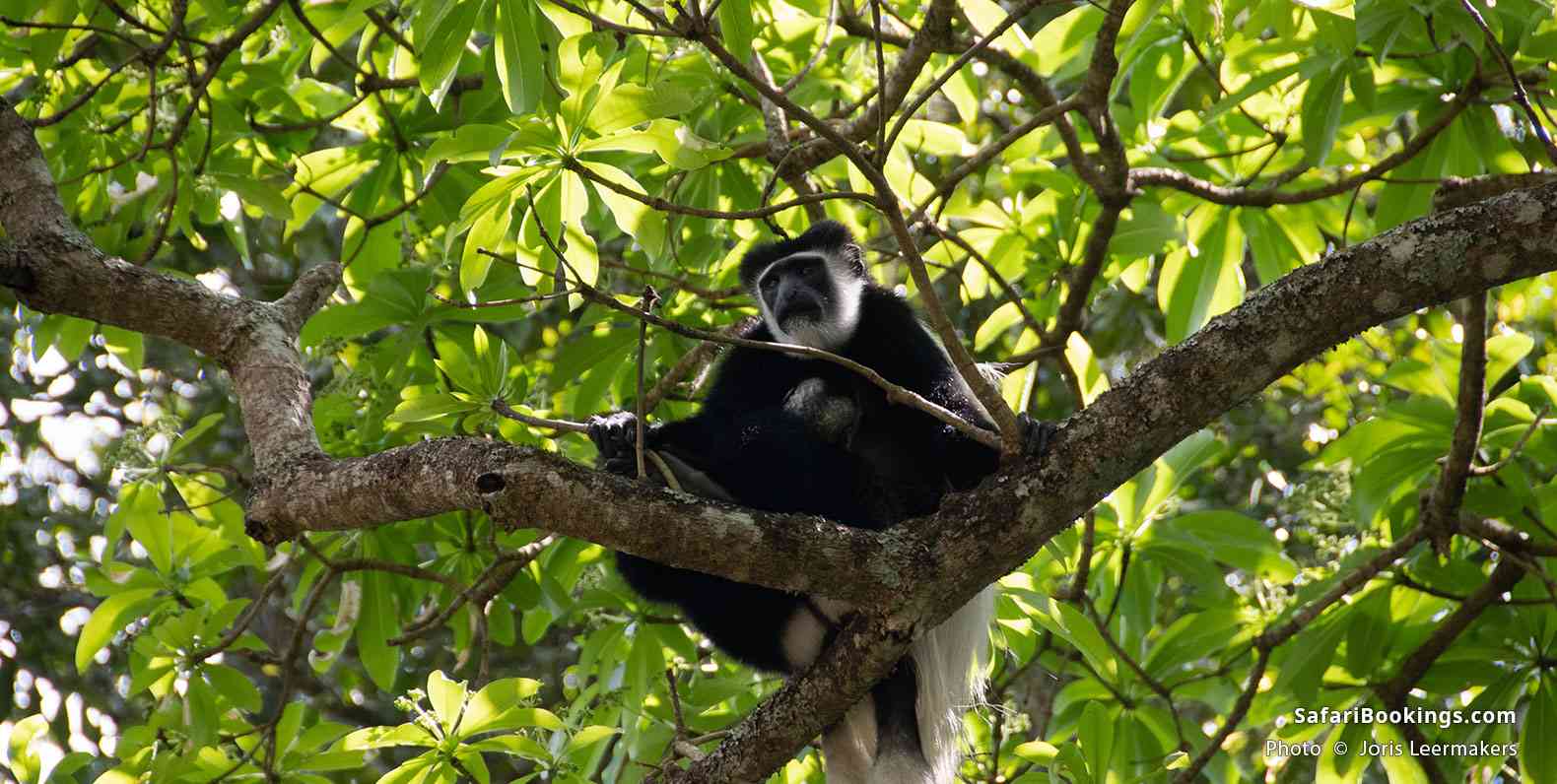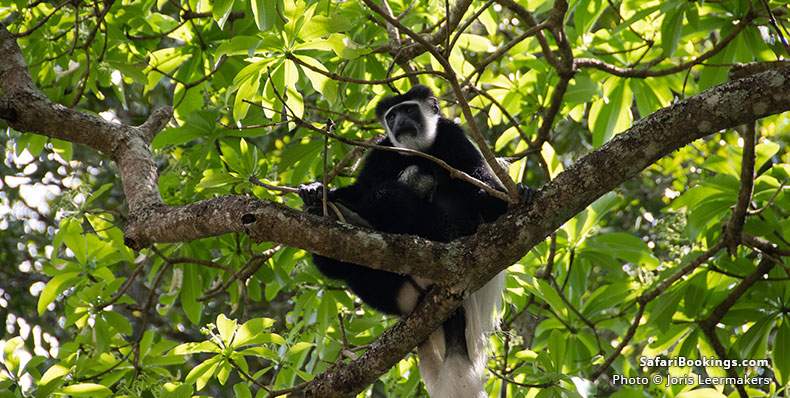 Black-and-white colobus
It's an easier journey than you might think from the forested foothills of Mt Kilimanjaro to Arusha National Park; it's easily reached by road from Moshi. It's a fantastic park with some of the best scenery anywhere in East Africa. Within the park's boundaries are Mt Meru, which is easily Mt Kilimanjaro's rival when it comes to beauty, Ngurdoto Crater (which is often nicknamed Little Ngorongoro), and a patch of wildlife-rich grasslands known as Serengeti Ndogo (Little Serengeti). While on safari here, you might see blue monkeys and black-and-white colobuses, as well as giraffes, elephants, zebras, red duikers, waterbucks, bushbucks, klipspringers, dik-diks, buffalo and hippos. You can also go canoeing, look for some of the 400 different bird species, and trek to the summit of Mt Meru.
Driving time from Moshi: 2 hours
Accommodation: For day trips, you could easily base yourself in Moshi, Arusha, or along the Arusha–Moshi road. Otherwise, there are campsites, lodges and tented camps inside the park, including the excellent Hatari Lodge.
Activities: Game drives; mountain climbing; hiking; bird watching
Arusha National Park Tours
5. Mkomazi National Park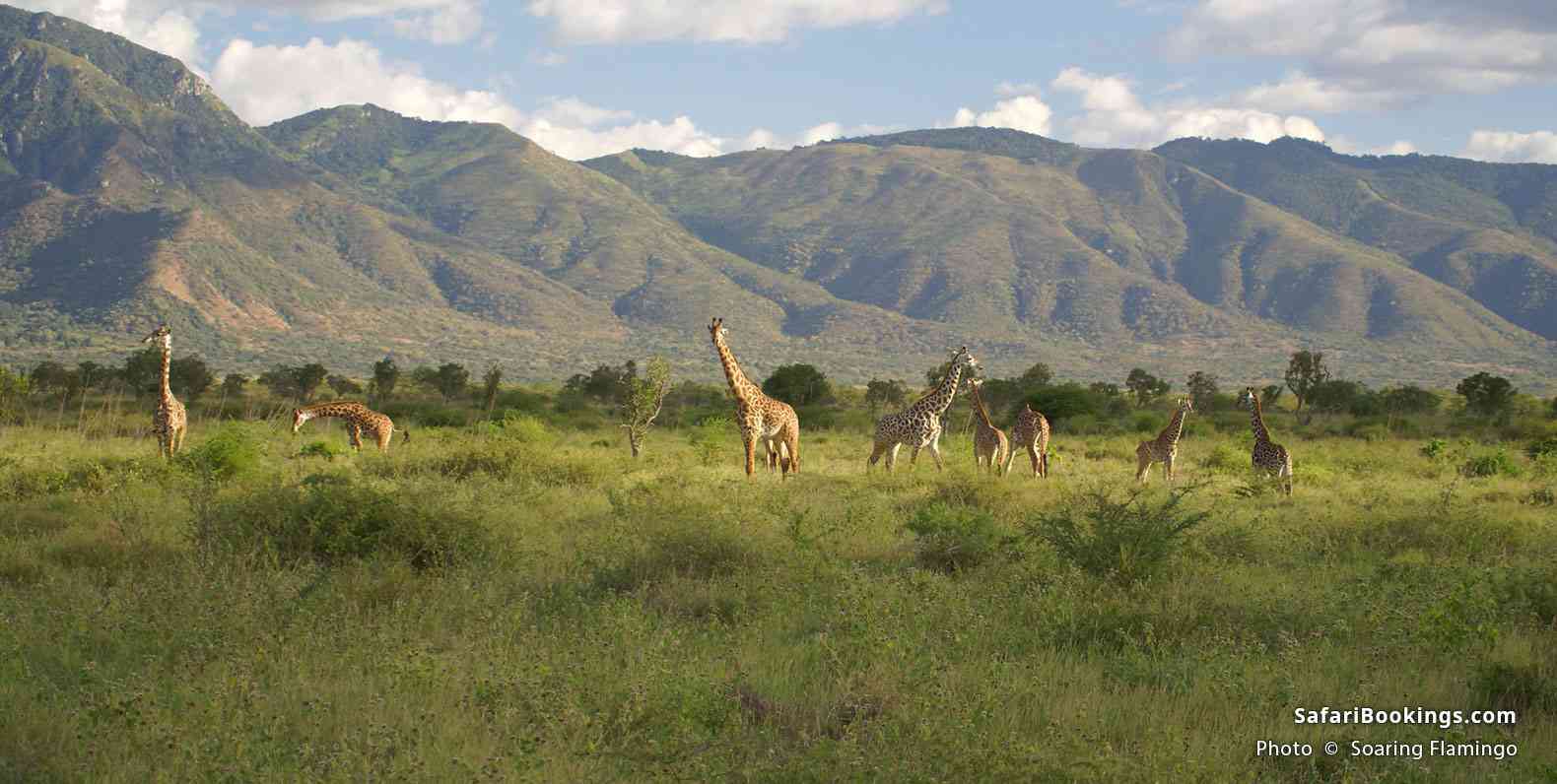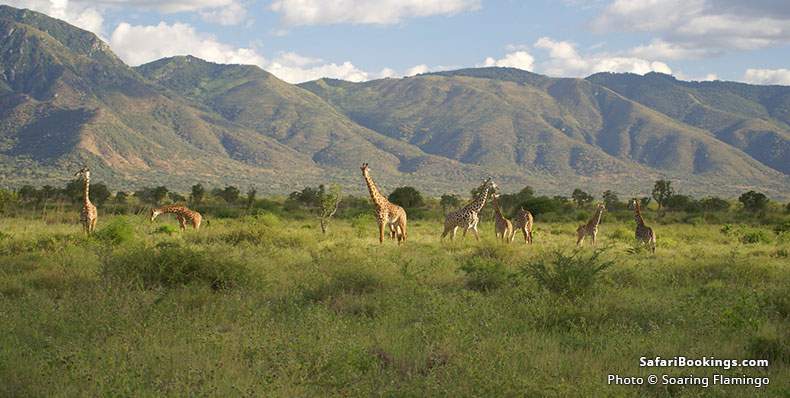 flickr.com/photos/soaringflamingo/10672081716
Visiting Mkomazi means leaving behind safari stereotypes as much as it means leaving behind the crowds.
Most safari vehicles rush past, but that's only because the word is not yet out that Mkomazi is an exciting safari destination of the future.
The mainstays of the Mkomazi experience are very much in place,exceptional views of Mt Kilimanjaro with the picturesque Usambara Mountains.
Also providing their share of scenic beauty, offset by rugged rocky hills, baobabs and arid plains.
You'll almost certainly see topi, eland, zebra and giraffe here. The dry country of the park is also perfectly suited to seeing some desert-adapted, much-prized species, such as the fringe-eared oryx, lesser kudu and gerenuk (the gazelle that longs to be a giraffe).
The bird watching, too, is outstanding: remarkably, more than 400 species have been recorded at Mkomazi. Enclosures for reintroduced black rhinos and African wild dogs, with a view to their eventual release into the wild, also add considerable gravitas to any visit here.
Driving time from Moshi: 2 hours
Accommodation: You could visit on a day trip from Moshi, but there are at least two campsites inside the park as well as Babu's Camp, a permanent tented camp.
Activities: Game drives; bird watching
Mkomazi Tours
6. Lake Natron & Ol Doinyo Lengai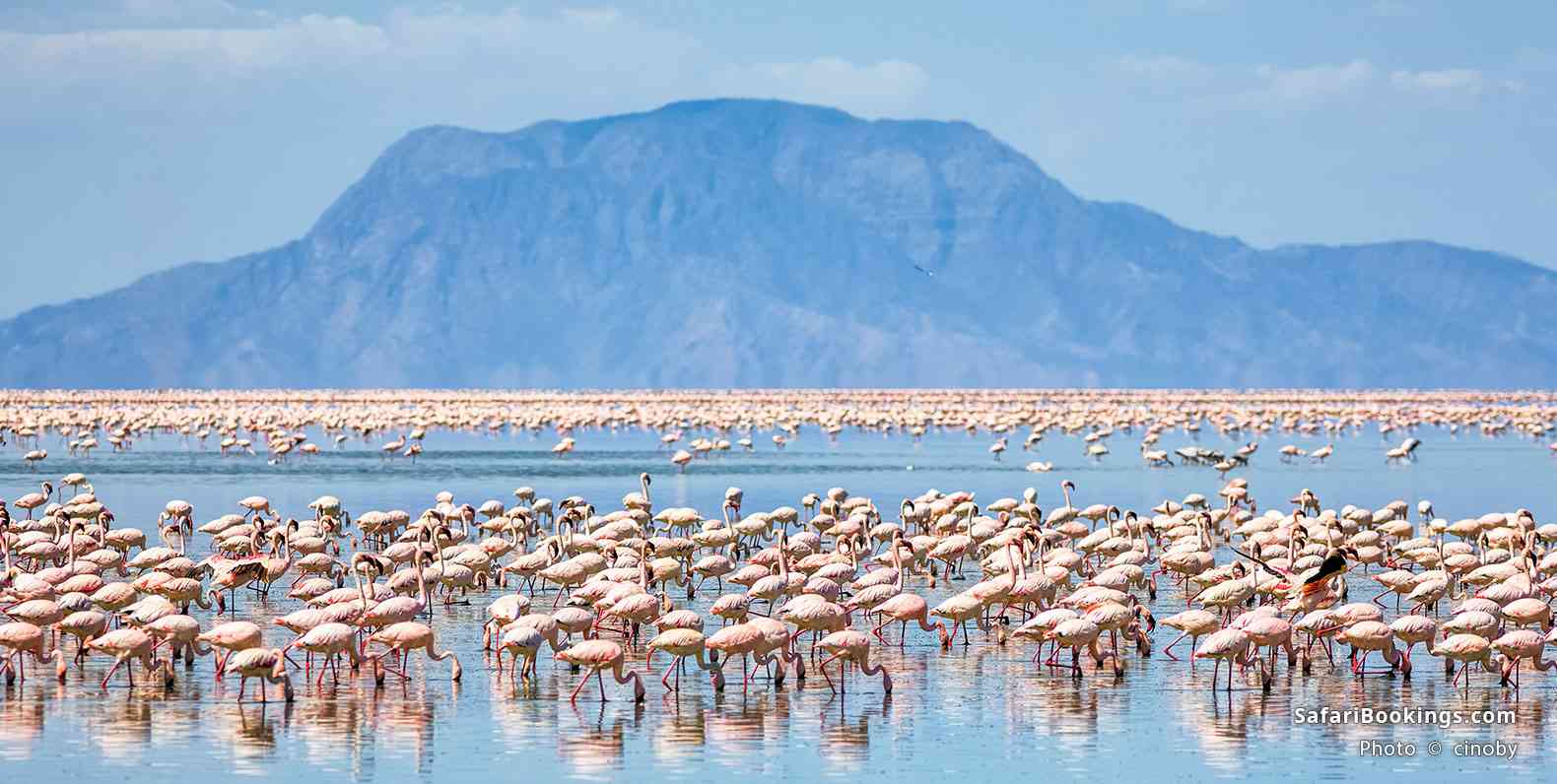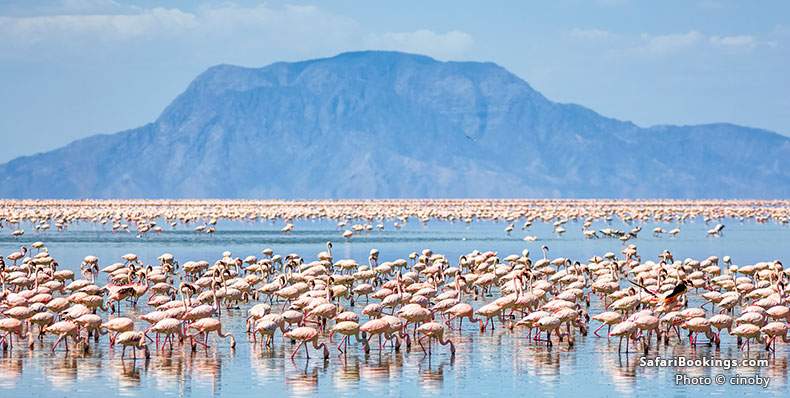 Flamingos feeding in the lake
It may look a little far on the map, but a shortcut to Lake Natron off the Arusha–Nairobi road makes these two little-visited destinations a natural fit. A trip here to the remote Crater Highlands is such a refreshingly different experience to so many other northern Tanzanian safari destinations. For a start, Lake Natron is one of the best places in East Africa to see the massed pink populations of flamingos, and the backdrop to the lake is guaranteed to stir the soul. Ol Doinyo Lengai, just beyond Lake Natron's southern shore, is one of the most beautiful peaks anywhere in Africa. Climb it if you wish, but wherever you are in the area, you'll find yourself trying to glimpse the mountain known to the local Maasai as 'Mountain of God'.
Driving time from Moshi: 3½ to 5 hours
Accommodation: Accommodation lies thinly spread not far from the southern shore of Lake Natron. These include lodges, tented camps and campgrounds.
Activities: Game drives; mountain climbing; bird watching
Lake Natron & Ol Doinyo Lengai Tours
7. Lake Chala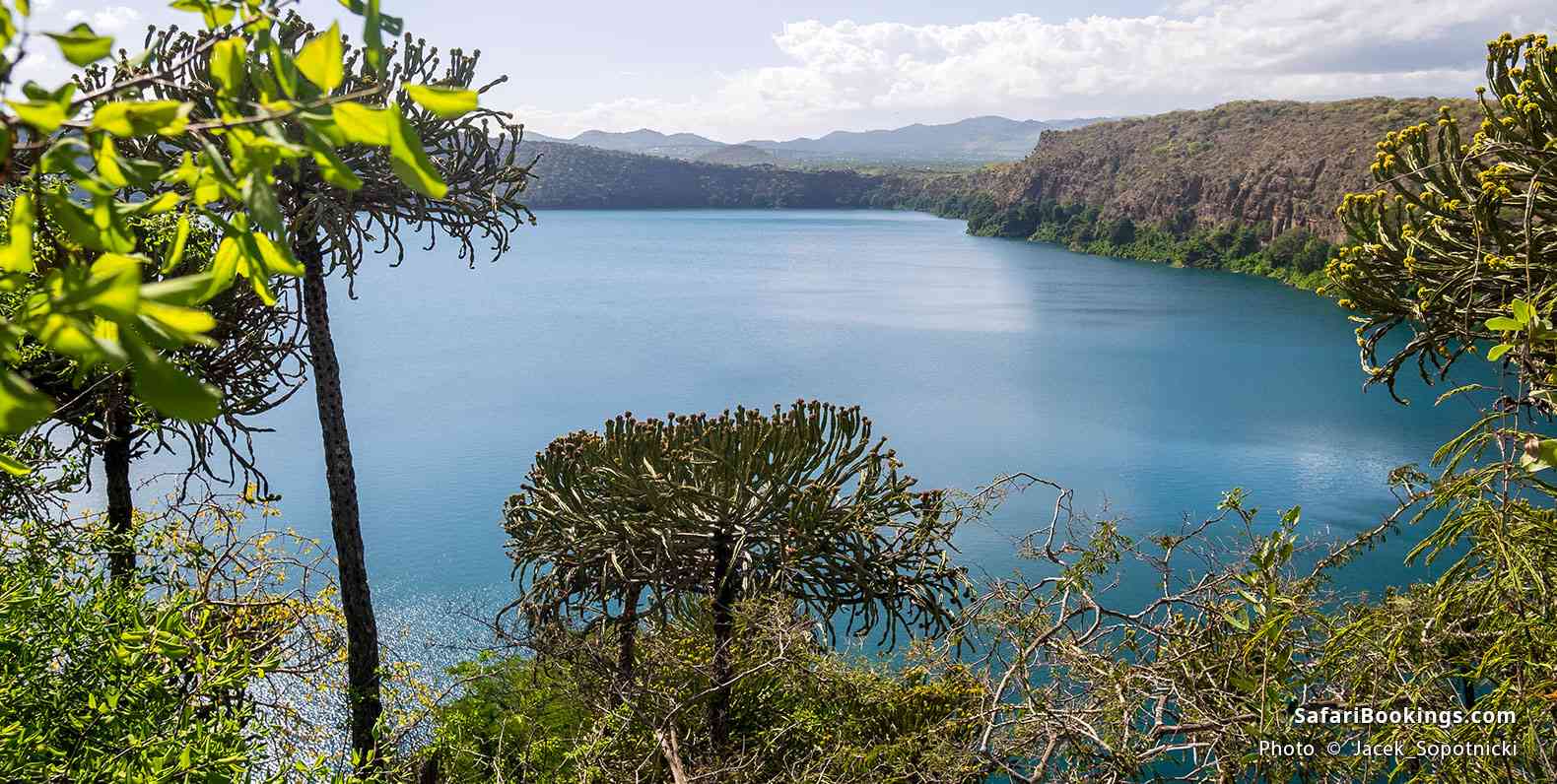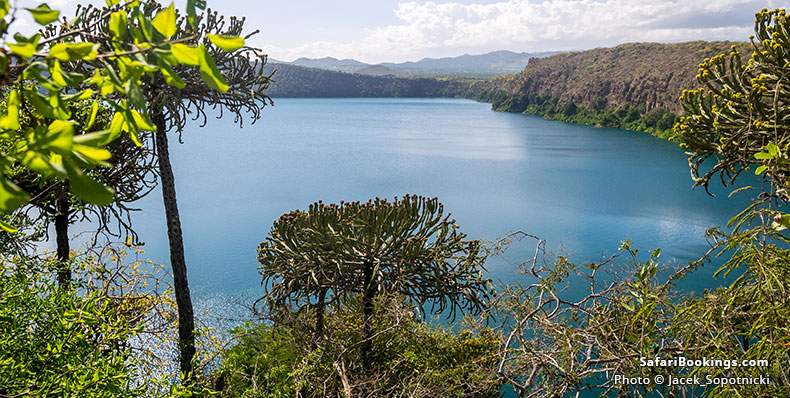 Driving time from Moshi: 75 minutes
Accommodation: Most people visit on a day trip from Moshi or Marangu, but Lake Chala Safari Lodge & Campsite is a friendly camp that overlooks the lake.
Activities: Sightseeing
8. West Kilimanjaro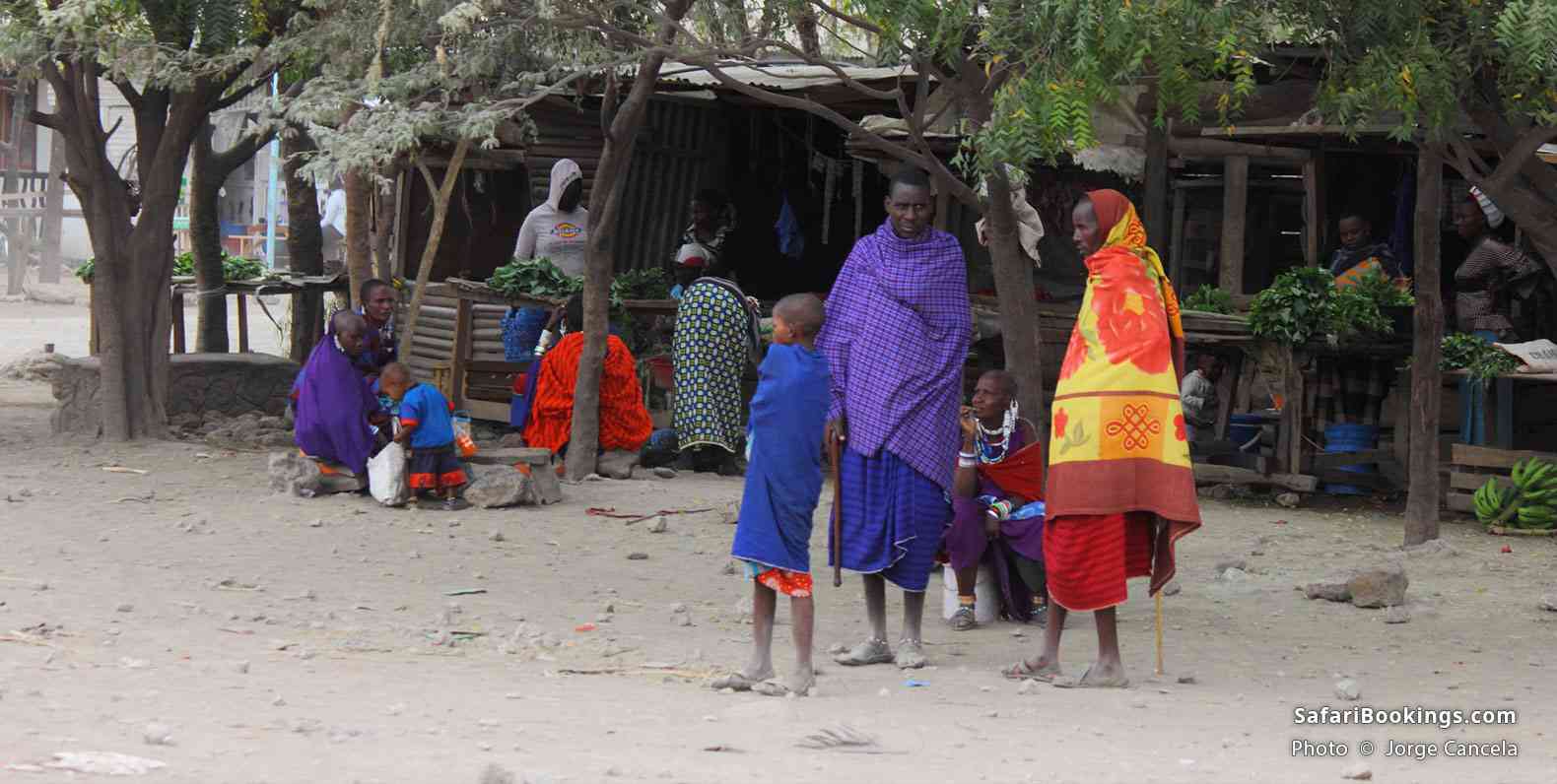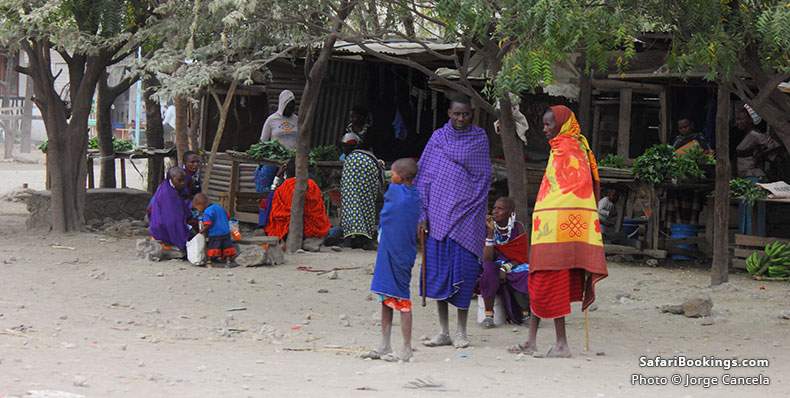 Maasai in Tanzania
Skirting the western foothills of Mt Kilimanjaro, West Kilimanjaro is for discerning safari travelers. Here a safari can combine cultural experiences, wildlife and astonishing views, but without the visitor numbers you might expect elsewhere. The region is an important corridor for elephants migrating, and lions dispersing, between Kenya's Amboseli National Park and northern Tanzania. Seeing these and other iconic species in the wild, thinly populated country in these parts could be a real highlight.